Forget about the ML505. The ML605 just made it obsolete. Not because of the Virtex-6 or the 8-lane PCIe or the DDR3… You need the ML605 because it has two FMC expansion connectors, one high-pin count and one low-pin count. You could do practically anything with this board. Why do I like it? Because for once we have a board that lets you interface real data at a high throughput to a beast of an FPGA.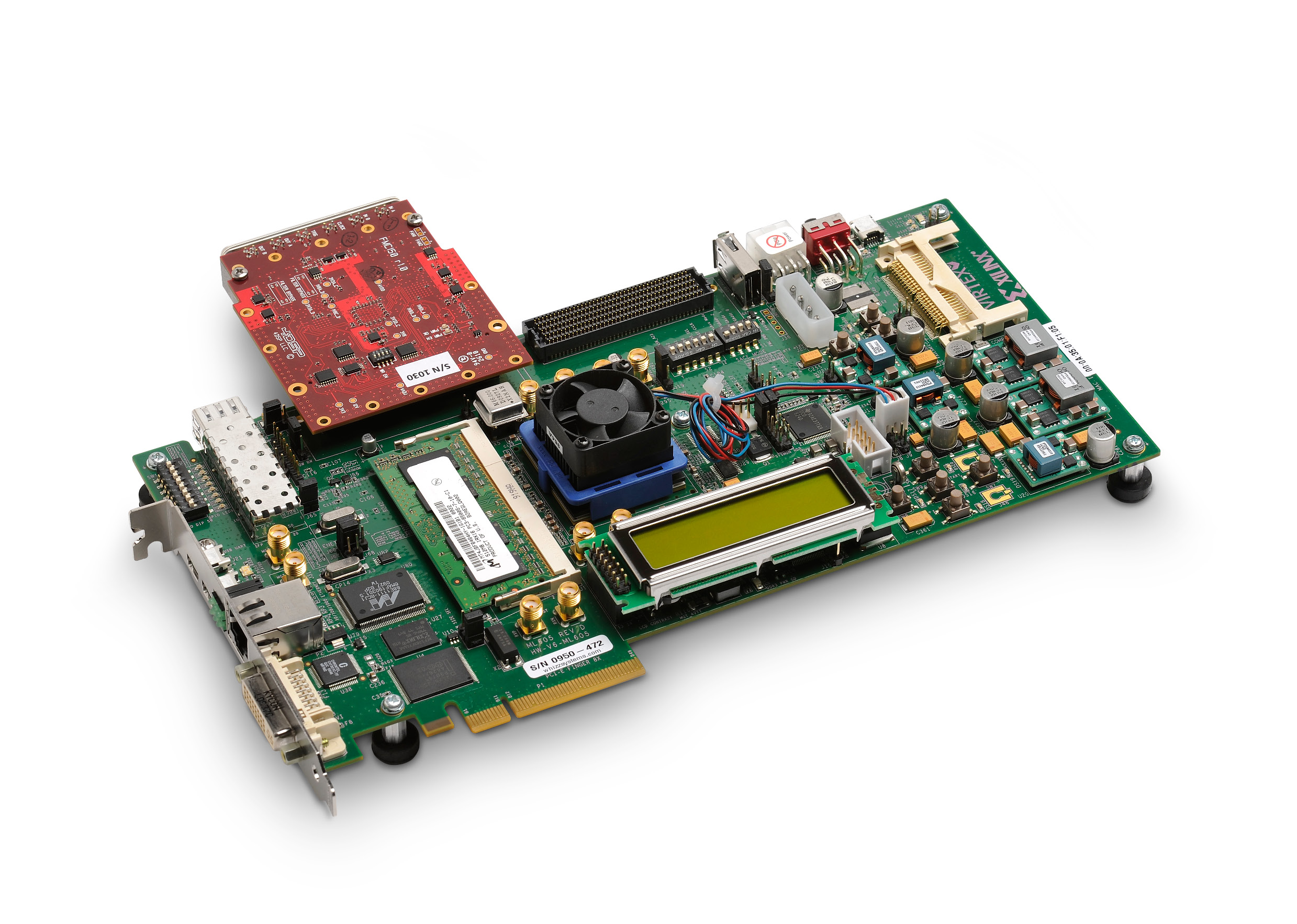 Here are some of the FMCs you might want to plug into this board:
That's the potential of the FMC standard that I tried to get across in a previous post FMC is a game-changer. With FMC, the FPGA/processing platform can be developed independently from the IO card which spreads the risk for the hardware developer and gives more choice and flexibility to the FPGA designer.
But of course that's not the only thing that's great about the ML605, checkout all the features as described on the Xilinx ML605 page:
FPGA: XC6VLX240T-1FFG1156
Configuration

Onboard configuration circuitry (USB to JTAG)
16MB Platform Flash XL
32MB Parallel (BPI) Flash
System ACE CF with 2GB Compact FLASH (CF) Card

Communications and Networking

10/100/1000 Tri-Speed Ethernet (GMII, RGMII, SGMII, MII)
SFP transceiver connector
GTX port (TX, RX) with four SMA connectors
USB To UART Bridge
USB Host Port and USB Peripheral Port
PCI Express x8 Edge Connector (card supports up to x4 Gen2 with Virtex-6 LX240T-1 silicon)

Memory

DDR3 SO-DIMM (512 MB)
BPI Linear Flash (32 MB) (Also available for configuration)
IIC EEPROM (8 Kb)

Clocking

200 MHz Oscillator (Differential)
66 MHz Socketed Oscillator (Single-Ended)
SMA Connectors for external clock (Differential)
GTX Reference Clock port with 2 SMA connectors

Input/Output and Expansion Ports

16x2 LCD character display
DVI Output
System Monitor
User Push buttons (5), DIP switches (3), LEDs (13)
User GPIO with two SMA connectors
Two FMC Expansion Ports

High Pin Count (HPC)

Eight GTX Transceivers
160 SelectIOs

Low Pin Count (LPC)

One GTX Transceiver
68 SelectIOs

Power

12V wall adapter or ATX
Voltage and Current measurement capability of 2.5V, 1.5V, and 1.2V, 1.0V supplies
If you have an ML605, leave a comment and let us know what interesting things you're doing with it.
---